Description
Rubber Buffers for Vibrating Screens
Rubber buffers are an important part of a vibrating screen. Screen operation should be strictly linear in line with the material flow and side movements should be minimized. Especially during start/stop operations side movements increase as the screen pass through amplitudes close to its natural frequency and resonate. Side rubber buffers prevent the screen from moving sideways.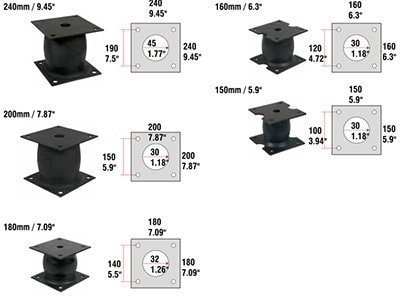 YUDIN EQUIPMENT is a professional Vibrating Screen Mesh supplier. We offer wire steel mesh, flex anti-clogging screen mesh and polyurethane screen mesh in the main product range. In addition, we can also offer Chrome-Nickel fine screen mesh for fine screening applications. If you did not find what you have been looking for, just get in contact with our sales team for the best  prices or send an email to [email protected].
In addition, you can also check other products that we supply. Click for our products page.
Disclaimer: We provide the pictures and technical data for your information only. All the rights belong to the manufacturer of the parts and equipment.
Get a Quotation