Description
Conveyor Drums for Aggregate and Mining Industries
YUDIN EQUIPMENT is a supplier of conveyor drums and conveyor accessories. Our product range covers a lot of different types of conveying applications in aggregate and mining industries. In addition, we can build custom design drums to the customer's specification.
Conveyors may not seem like an important part of a crushing plant. However, when calculating their total length, even a simple plant can bare hundreds of meters of conveyors. Drums are a very important part in conveying and require proper servicing.
Drive Drum with Rubber Coating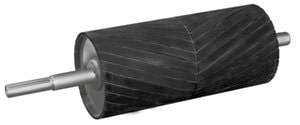 Drive Drum with Polyurethane Coating

Idle Drum

YUDIN EQUIPMENT is a professional Conveyor and Accessories supplier. We offer a wide range of equipment.
Rubber Belts (Flat, Rough Top Textured and Chevron)
Drums (Drive, Tail)
Roller Stations
Belt Scrapers with Tensioning Mechanisms
Belt Fasteners
Roller Supports and Brackets
Conveyor Rollers (Carrying, Idle, Impact, Guide)
Roller End Caps
Metal Detectors
Permanent Magnets
If you did not find what you have been looking for, just get in contact with our sales team for the best  prices or send an email to [email protected].
In addition, you can also check other products that we supply. Click for our products page.
Disclaimer: We provide the pictures and technical data for your information only. All the rights belong to the manufacturer of the parts and equipment.
Get a Quotation