Description
Vibrating Screen Springs
While a large number of engineers try to minimize the vibrations in different applications, vibrating screen manufacturers try to take the best of it. Proper vibrating patterns are not possible without flexible mounts. Springs are the most common type of vibrating screen suspension. They are durable and easy to install and service.
When requesting for quotation be sure to provide the data below: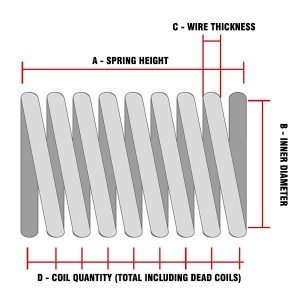 YUDIN EQUIPMENT
 is a professional 
Vibrating Screen Mesh
supplier. We offer wire steel mesh, flex anti-clogging screen mesh and polyurethane screen mesh in the main product range. In addition, we can also offer Chrome-Nickel fine screen mesh for fine screening applications. If you did not find what you have been looking for, just get in
contact
with our sales team for the best  prices or send an email to
[email protected]
.
In addition, you can also check other products that we supply. Click for our products page.
Disclaimer: We provide the pictures and technical data for your information only. All the rights belong to the manufacturer of the parts and equipment.
Get a Quotation